PHILIPS MONITOR 29" 292E2AE IPS LED WFHD 21:9 HDMI x 2 DP
PHI-292E2AE
$46900

$469.00
Tax included.
Shipping
calculated at checkout.
---
---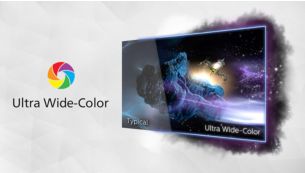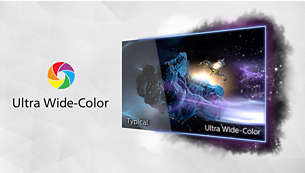 Ultra Wide-Color wider range of colors for a vivid picture
Ultra Wide-Color Technology delivers a wider spectrum of colors for a more brilliant picture. Ultra Wide-Color wider "color gamut" produces more natural-looking greens, vivid reds and deeper blues. Bring, media entertainment, images, and even productivity more alive and vivid colors from Ultra Wide-Color Technology.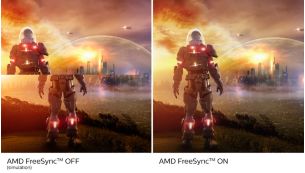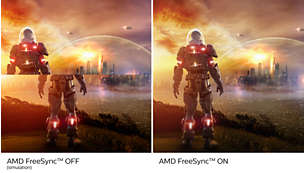 Effortlessly smooth gameplay with AMD FreeSync™ technology
Gaming shouldn't be a choice between choppy gameplay or broken frames. With the new Philips monitor it doesn't have to be. Get fluid, artifact-free performance at virtually any framerate with AMD FreeSync™ technology, smooth quick refresh and ultra-fast response time.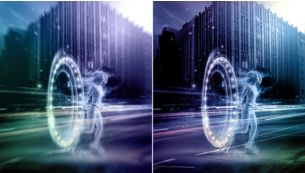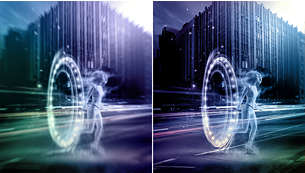 1ms (MPRT) fast response for crisp image and smooth gameplay
MPRT (motion picture response time) is more intuitive way to describe the response time, which directly refers the duration from seeing blurry noise to clean and crisp images. Philips gaming monitor with 1 ms MPRT effectively eliminates smearing and motion blur, delivers shaper and precise visuals to enhance gaming experience. Best choice for playing thrilling and twitch-sensitive games.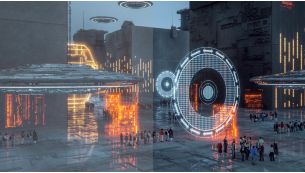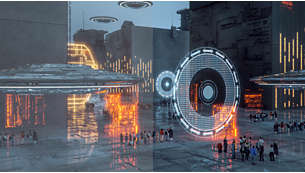 SmartImage game mode optimized for gamers
The new Philips gaming display has quick access OSD fine tuned for gamers, offering you multiple options. "FPS" mode (First person shooting) improves dark themes in games, allowing you to see hidden objects in dark areas. "Racing" mode adapts display with fastest response time, high color, along with image adjustments. "RTS" mode (Real time strategy) has a special SmartFrame mode which enables highlighting of specific area and allows for size and image adjustments. Gamer 1 and Gamer 2 enable you to save personal customized settings based on different games, ensuring best performance.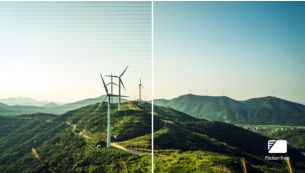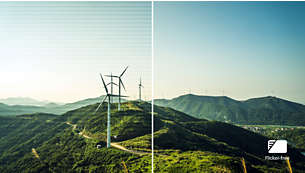 Less eye fatigue with Flicker-free technology
Due to the way brightness is controlled on LED-backlit screens, some users experience flicker on their screen which causes eye fatigue. Philips Flicker-free Technology applies a new solution to regulate brightness and reduce flicker for more comfortable viewing.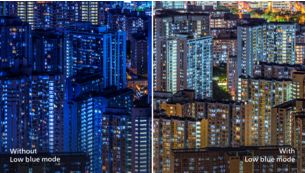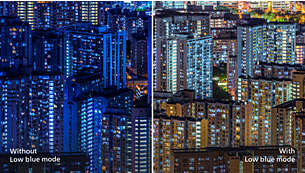 LowBlue Mode for easy on-the-eyes productivity
Studies have shown that just as ultra-violet rays can cause eye damage, shortwave length blue light rays from LED displays can cause eye damage and affect vision over time. Developed for wellbeing, Philips LowBlue Mode setting uses a smart software technology to reduce harmful shortwave blue light.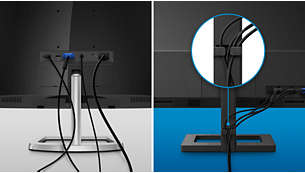 Cable management reduces cable clutter for neat workspace
Cable management is an intimate design that maintains tidy workspace by organizing cables and wires required for the operation of a display device.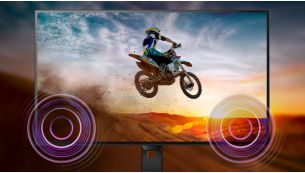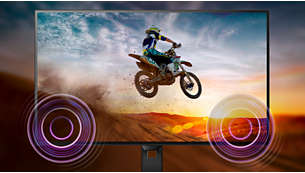 Built-in stereo speakers for multimedia
A pair of high quality stereo speakers built into a display device. It can be visible front firing, or invisible down firing, top firing, rear firing, etc depending on model and design.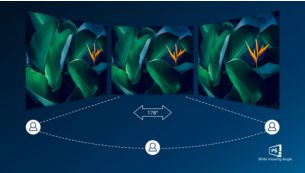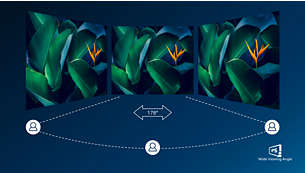 IPS LED wide view technology for image and color accuracy
IPS displays use an advanced technology which gives you extra wide viewing angles of 178/178 degree, making it possible to view the display from almost any angle. Unlike standard TN panels, IPS displays gives you remarkably crisp images with vivid colors, making it ideal not only for Photos, movies and web browsing, but also for professional applications which demand color accuracy and consistent brightness at all times.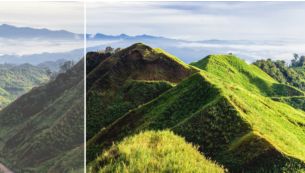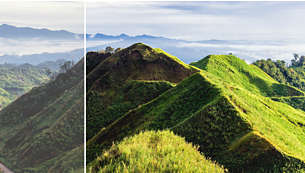 SmartContrast for rich black details
SmartContrast is a Philips technology that analyzes the contents you are displaying, automatically adjusting colors and controlling backlight intensity to dynamically enhance contrast for the best digital images and videos or when playing games where dark hues are displayed. When Economy mode is selected, contrast is adjusted and backlighting fine-tuned for just-right display of everyday office applications and lower power consumption.
Wide images with UltraWide Full HD 2560 x 1080 resolution
With 21:9 UltraWide format, you can spread out and see multiple applications side-by-side on the same screen. The 21:9 UltraWide format also makes movies and games more immersive than ever. Full HD resolution makes everything look crisp and clear.
MultiView enables simultaneous dual connect and view
With the ultra-high resolution Philips MultiView display you can now experience a world of connectivity. MultiView enables active dual connect and view so that you can work with multiple devices like a PC and notebook simultaneously, for complex multi-tasking.
Technical Specifications
Picture/Display

AMD FreeSync™ technology

LCD panel type

Backlight type

Panel Size

Display Screen Coating

Effective viewing area

672.77 (H) x 283.82 (V) mm

Aspect ratio

Maximum resolution

Pixel Density

Response time (typical)

MPRT

Brightness

Contrast ratio (typical)

SmartContrast

Pixel pitch

Viewing angle

Picture enhancement

Color gamut (typical)

NTSC 110.1%*, sRGB 126.3%*

Display colors

Scanning Frequency

30 - 99 kHz (H) / 48 - 75 Hz (V)

sRGB

Flicker-free

LowBlue Mode

EasyRead

Connectivity

Signal Input

Sync Input

Audio (In/Out)

Convenience

Built-in Speakers

MultiView

User convenience

OSD Languages

Other convenience

Plug & Play Compatibility

Stand

Height adjustment

Tilt

Power

On mode

16.24 W (typ.) (EnergyStar test method)

Standby mode

Off mode

Power LED indicator

Standby mode- White (blinking)

Power supply

Dimensions

Product with stand(max height)

Product without stand (mm)

Packaging in mm (WxHxD)

Weight

Product with stand (kg)

Product without stand (kg)

Product with packaging (kg)

Operating conditions

Temperature range (operation)

Temperature range (storage)

Relative humidity

Altitude

Operation: +12,000ft (3,658m), Non-operation: +40,000ft (12,192m)

MTBF

50,000 hrs (excluding backlight)  hour(s)

Sustainability

Environmental and energy

Recyclable packaging material

Compliance and standards

Regulatory Approvals

Cabinet

Color

Finish