Seagate 12TB IronWolf Pro 3.5 SATA 7200 5 years
ST12000NE0008
$60000

$600.00
Tax included.
Shipping
calculated at checkout.
---
---
Seagate 12TB IronWolf Pro 3.5 SATA 7200 5 years
Tough. Ready. Scalable.
For everything NAS, there's IronWolf and IronWolf Pro. Always on and always working, IronWolf is enhanced with AgileArray technology for optimal reliability and system agility. Multi-user technology and extreme workload rates allow IronWolf to perform and scale up with your enterprise.
IronWolf + the Power of AgileArray
NAS-optimised hard drive for the best-possible user experience
IronWolf Health Management in compatible NAS1 systems continuously helps to safeguard the health of your data
Drive balance with Rotational Vibration (RV) sensors manage multi-bay vibration for long-term consistent performance and reliability
RAID performance optimised that maximises responsiveness and uptime with NAS-aware Error Recovery Control
Advanced power management saves energy and delivers the right power at the right time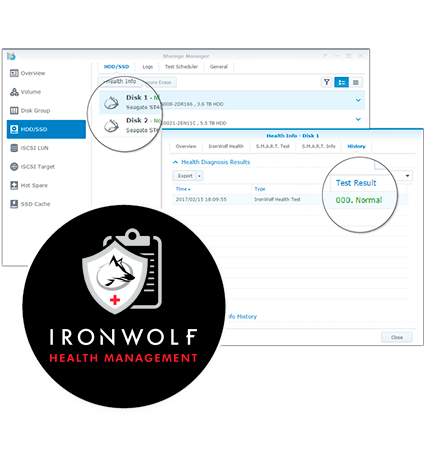 IronWolf Health Management is designed to operate on compatible NAS systems2 such as Synology and ASUSTOR. Populated with supported IronWolf or IronWolf Pro HDDs1 It improves the overall system reliability by displaying actionable prevention, intervention or recovery options for the user.
Multi-Bay and NAS-Ready With Built-In RV Sensor
First in its class, IronWolf drives are equipped with RV sensors on high capacity drives to maintain performance in multi-bay NAS enclosures. RV sensors on IronWolf Pro come standard, helping business and creative pros to have consistent performance for years to come.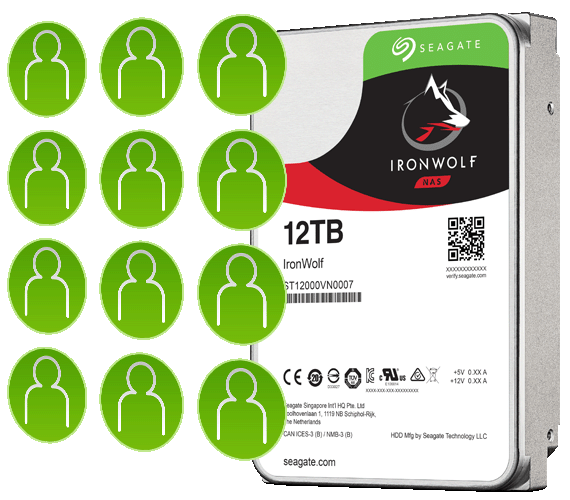 Do More With Multi-User Optimisation
Do more with your NAS with multi-user optimisation. Enabling user workloads of up to 180 TB/year on IronWolf and 300 TB/year with IronWolf Pro, multiple users can confidently upload and download data to a NAS server. Whether you're a creative pro or a small business, IronWolf is on your side.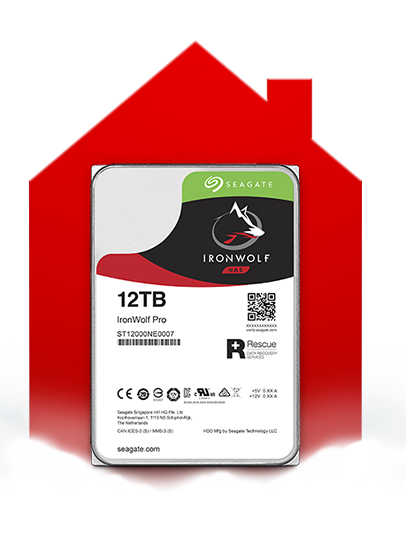 Dominate The Media
Build your home NAS media empire with IronWolf HDDs. IronWolf and IronWolf Pro lead the class in storage capacity with drives as large as 12 TB, and the performance needed to run high definition content with your NAS. Store thousands of full-length HD films and even more photographs on your private server. Think of it as your home cloud.
_____________________________________________________________
Seagate ST12000NE0007 12TB IronWolf Pro 3.5" SATA3 NAS Hard Drive - Interface: SATA 6Gb/s - 256MB Cache - Spindle Speed: 7200 RPM - Max Sustained Transfer Rate: 250 MB/s - 5 Years Limited Warranty